v i s u a l
r o n a n c o y l e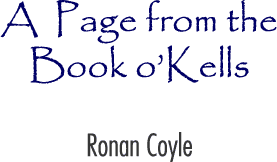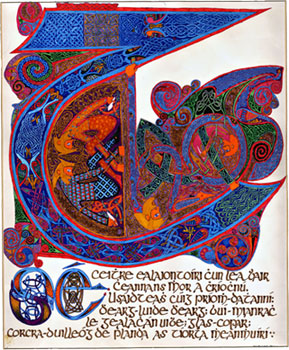 click image for a full-size view
The text says: It took four illustrators to complete the Book of Kells (an leábhair ceannais mór). Five principal colours were used: Red – red lead; Yellow – egg yolk; Green – copper; Purple – plant leaves from the Mediterranean.
The artist used the four illustrators with those five colours to spell out the first word of the passage. He included the main devices that were used in Celtic strapwork, which are: abstract strapwork; those derived from people (their facial hair mostly, and one extremely twisty arm); animals (various birds); and plants (which are rarely used in Celtic illustrated manuscripts because the branching stems create problems in the 'over-under' rules of strapwork). Although he wrote there were five colours used, he mentioned only four of them because halfway through the text he realised he was running out of space.
The blue birds highlight the letter forms of the first word. Here he had to use exotic breeds of birds because all nature in Ireland is a kind of greyish brown.
Materials: The artist drew his page with markers, which do not stand the test of time well, so he tried to enhance the colouring in Photoshop without making it look too garish. The materials were just markers on normal paper. The preparation consisted of doing a few smaller roughs to figure out the knotwork strategy, then he scaled it up to the final image size (15x13 inches). Because the marked ink seeps under the paper pulp, the pencil lines were easily erased without disturbing the colours.
drawing and detail © Ronan Coyle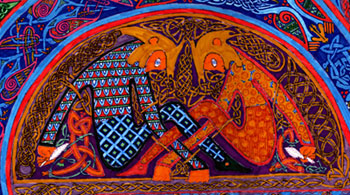 click image for a full-size view