a r c h i v e
c h r i s t o p h e r m e t r e s s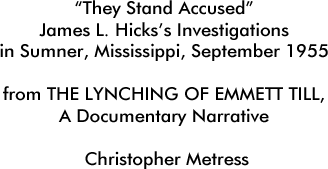 Editor's note: Recently, the F.B.I announced it was re-opening the case of the murder of Emmett Till, a teenaged boy from Chicago who had gone to visit his black relatives in Money, Mississippi. There, inadvertently, he had run afoul of the local white storekeeper and his brother. These men killed the boy – horribly – for the ostensible offence of "whistling" at the store-keeper's wife. The killers – who were so known to the white and black populations – were found not guilty by an all-white jury. At the boy's funeral in Chicago, at his mother's insistence, the casket was left open, and photographs were taken. They were shocking and were instrumental in the moral galvanizing that became the great Civil Rights Movement of the last half of the 20th Century. Fifty years later, we are assured that this nation is now seeking justice.

James L. Hicks was then the dean of African-American journalists. He went down to Mississippi to cover the trial, and wrote four dispatches. We published them two years ago, in Archipelago, but believe they are worth re-reading now. –KM

James L. Hicks' dispatches appear in Christopher Metress' THE LYNCHING OF EMMETT TILL: A Documentary Narrative, (University of Virginia Press, September 2002); with permission of the Cleveland Call and Post.

They appeared earlier in Archipelago Vol. 6, No. 1 Spring 2000.

"The Murder of Emmett Till," a documentary on "American Experience," PBS and Further Reading.

For those who wonder if justice will be done, see "Why It's Unlikely the Emmett Till Murder Mystery Will Ever Be Solved"

---

Contents:

"They Stand Accused by C-P Reporter: Jimmy Hicks Charges Miss. Officials Aided Lynchers, "James L. Hicks, Cleveland Call and Post, October 8, 1955
"White Reporters Doublecrossed Probers Seeking Lost Witnesses," James L. Hicks, Cleveland Call and Post, October 15, 1955
"The Mississippi Lynching Story: Luring Terrorized Witnesses from the Plantations Was Toughest Job," James L. Hicks, Cleveland Call and Post, October 22, 1955
"Jimmy Hicks Tells Inside Story of Infamous Mississippi Lynch Case," James L. Hicks, Cleveland Call and Post, October 22, 1955
Foreword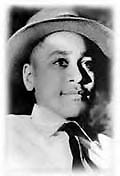 On September 24, 1955, an all-white Mississippi jury, after a mere sixty-seven minutes of deliberation, acquitted J.W. Milam and Roy Bryant of the murder of Emmett Till. Till, a fourteen year-old black boy from Chicago, had been visiting for the first time his extended family in the Mississippi Delta. One afternoon, barely a week into his visit, he and several other youths were standing outside a white-owned grocery in the small hamlet of Money. Apparently, Till had been boasting of his friendships with white people up North — in particular his friendships with white girls — and the local kids, looking to call his bluff, dared him to enter the store and flirt with Carolyn Bryant, the white woman and former beauty queen who was working the cash register. Till entered the store, and what he did next is unclear. Some say he "wolf whistled" at Bryant; others say he grabbed her hand and asked her for a date; still others claim he did nothing more than simply say "bye, baby" to her as he left the store. Whatever Till did, it was apparent to all involved that he had done something that made Carolyn Bryant angry or afraid. Till's friends rushed him away from the store as Bryant went to her car to get a gun.
For three days, nothing more happened, and then Roy Bryant — Carolyn's husband — and J.W. Milam — Roy Bryant's step-brother — struck out in the dead of night in search of young Till. They found him where they thought he'd be at two in the morning: asleep in the modest cabin of Mose Wright, his great-uncle. The two men, demanding to see the boy "who'd done the talking," took Till forcibly from the house, and his family never saw him alive again. The next morning, at their behest, the local sheriff searched the county, and when he could not find any trace of Till he questioned and eventually arrested Milam and Bryant on kidnapping charges. When Till's bloated and disfigured corpse surfaced three days later downstream in the Tallahatchie River, Milam and Bryant were quickly re-arrested, this time for murder.
In the weeks leading up to the trial, media coverage was enormous. Influential African American weeklies like the Chicago Defender, the Pittsburgh Courier, the New York Amsterdam News, and the Baltimore Afro-American all published loud denunciations of southern injustice and threatened to exert political and economic pressure should Mississippi fail to give Till's case a fair hearing. In response, southern white papers, led by the conservative Jackson Daily News and the more moderate Memphis Commercial Appeal, insisted that justice would be done and that continued threats from the "liberal press" would threaten rather than secure justice in the case. Eventually, more than seventy newspapers and magazines sent reporters to the trial, and when, against all reasonable evidence, the jury failed to convict Milam and Bryant, the denunciations were swift and strong. While apologist papers in the South argued that justice had had its day in court, African American newspapers and magazines, joined by a chorus of support from the northern white press and liberal political organizations, called for national protests and boycotts.
According to many reporters in attendance, the judicial process had failed Emmett Till, and the real question to come out of the whole trial was whether, without federal intervention, blacks could get justice in Mississippi. For another set of dissenters, however, the trial raised a different set of questions, many of them concerned with the truths of the case. Despite the best efforts of the prosecuting attorneys, the trial seemed to hide more truths than it answered as many competing testimonies were never fully explored or cross-examined. For instance, what really had happened that afternoon in the Bryant grocery? Moreover, how did Milam and Bryant find out about the alleged transgression? Who else besides Milam and Bryant drove out to Mose Wright's cabin that night, and who were the other men spotted with Milam at the barn the next morning? Were there really black men in Milam's pickup that evening? If so, who were they and what had happened to them? Finally, how long did Emmett Till remain alive that night, and exactly when, where, why and how did his murder take place? A handful of investigative reporters understood that the trial did not answer these questions fully and that the truth, more likely than not, had been obscured by the proceedings.
Among the investigative reporters at the trial, none played a more significant role than James L. Hicks. Hicks began his career as a reporter for the Cleveland Call and Post in 1935 and later moved on to the Baltimore Afro-American. As one of the premier investigative journalists of his generation, Hicks was also the Washington, D.C. bureau chief for the National Negro Press Association, which served more than one hundred newspapers. In 1955, he became executive director of the New York Amsterdam News, a position he would hold for the good part of twenty years. As the first black member of the State Department Correspondents Association and the first black reporter cleared to cover the United Nations, Hicks was truly a pioneer in the field. His coverage of the Till trial ran in dozens of African-American newspapers, and in the following piece of investigative journalism — which ran in four installments in October 1955 — he tells about the role he played in discovering the existence of "missing witnesses" to the murder. Hicks's work in this area actually forced a trial recess on Tuesday, September 20, as the prosecution called for time to track down these newly discovered witnesses. In this series of articles — which ran in the Baltimore Afro-American, the Cleveland Call and Post and the Atlanta Daily World — Hicks argues that the forces of law in Mississippi conspired to prevent the full evidence of Milam and Bryant's guilt from surfacing at the trial. The version reprinted here draws its structure from the installments published in the Cleveland Call and Post, which presented the most condensed rendering of Hicks's articles. Passages omitted from the Cleveland Call and Post articles, but included in some form or other in either the Atlanta Daily World or the Baltimore Afro-American, have been inserted throughout and marked by the addition of brackets.
—Christopher Metress


New York, N.Y. — Here for the first time is the true story of what happened in the hectic five-day trial of two white men in Sumner, Mississippi, for the murder of 14-year-old Emmett Till of Chicago.
This story has never been written before. I did not write it in Mississippi for fear of bodily harm to myself, and to my colleagues.
No one else has written it because no one else in the capacity of a reporter lived as close to it as I did.
Looking back on it now, I am ashamed that I did not throw caution to the winds and at least try to get out the story exactly as it was unfolding to me. I'm convinced, however, that if I had tried this, I would not be here in New York to write this.
I should like also to add that not once in the stories that I did file from Sumner did I tell a lie. The offense, if I committed one, lies in the fact that the stories that I did file did not dig or go far enough into the truth. It just wasn't safe to do so.]
Here in the safety of New York I now charge (as I would have charged in Sumner, Mississippi) that:
Sheriff H. C. Strider frustrated the ends of justice by refusing to take an impartial person to the Charleston jail at Charleston, Miss., and permit them to check on his report that Leroy "Too Tight" Collins [was] not in the Charleston jail.
I further charge, and with the protection of proper law officials will go back to Mississippi and help prove, that Leroy Collins was in the Charleston jail on Friday at the very hour that the case went to the jury.
I charge further that Prosecutors Gerald Chatham and Robert B. Smith were told about this but that they decided that since the sheriff had given his word that Collins was not in the jail, they proceeded to close out the trial without this man whom everyone believes could have positively hung the crime on the two white men and seriously implicated at least one other white man.
I finally charge that if Leroy Collins is brought forward at this date and given all opportunity to talk where he is assured that he is not in any danger, he will be able to tell where Henry Lee Loggins is and that the two of them will prove to be the two colored men who were seen on the truck the night of the murder by Moses Wright and Willie Reed.
Knew Too Much
I believe that Henry Lee Loggins is dead and that he was disposed of because he knew too much about the case.
These are serious charges. But I welcome this opportunity to write down the evidence on which they are based.
This is the fantastic story as lived by this reporter:
Attended Funeral
On the Sunday before the opening of the trial I attended the funeral of "Kid" Townsend, a well[-]liked colored man who has lived in Sumner virtually all his life.
I had been told that a number of white people would attend the funeral and I felt that it would provide at least good pre-trial story for my paper.
[I drove into the churchyard, got out with my notebook in my hand and went into the church passing a number of colored people standing in the churchyard.
[Inside I found the church crowded with no seats and that white people were occupying the two rows on the left side of the church.
[The temperature was about 95 degrees and I decided to stand outside the church and listen to the services after I had been in the church about a half hour. This was easy to do because the church was the typical white-washed wooden structure and the minister who preached was shouting loud enough to be heard from outside.
[My notes, which I shall constantly refer to in this article, show that the preacher's name was the Rev. W. M. King, that there were 175 colored people in the church and 12 whites including five women, four men, and three white children.
[My notes also show that I recorded the sermon as being from "Fourth Chapter, Second Timothy," and beneath I have a quotation read by the minister which said, "I have fought the good fight. I have kept the faith. I have finished my course."]
I was leaning there against the fender of a parked car when a voice behind me said, "Are you down here for the trial?"
Up to this point I did not know a single colored person in Sumner and I had tried in the two days I'd been there from spreading around that I was a reporter.
But as I turned to the voice I decided that it would get out anyway[,] so I turned to the man who addressed me and said, "Yes, I am down on the trial. I'm a reporter."
The man was colored and he said to me, "There's a lady behind this car who would like to talk with you. I think you'd be interested in what she has to say."
[I turned and looked but saw no one. At that moment the man said, "Go behind the car, but don't take out your notebook and write down nothing."
[Now at this point I should like to say to the reader, if this whole thing starts off reading like a cheap and fantastic Hollywood movie script, that is exactly what it is going to read like for the entire five days.
[But I can say also that every word of it is true and it is written exactly the way I lived it.]
I went back of that car and found a woman whom I shall not describe[,] for she told me in the beginning that she was actually endangering her life by talking to me about the trial.
Woman Gives Tip
The woman then told me that a young boy named "Too Tight" was in the truck the night of the murder and that he had suddenly disappeared and no one knew where he was.
She said she did not know "Too Tight's" real name but that she thought she could send me to a place to get all the information I wanted on him "if you aren't afraid to go."
I told her I was not afraid. Then standing and looking off in another direction she said to me[, "]Go to Glendora. That's about seven miles south of here. Be careful and don't let the people know what you are looking for. Don't talk to any white people.
"Go to a place called King's. It's the only colored dance hall in town. Hang around there and find the right people. They will tell you 'Too Tight's' name and what happened to him. But don't,["] she said, "get caught down there after dark."
Then she walked away from the car.
[As he walked away I looked at my watch. It was three o'clock. I reasoned that with any good luck I could drive down there in 20 minutes and spend an hour or so in town and still make it back to my hotel in Mound Bayou by dark.]
So I got in the car and headed immediately for Glendora.
The tavern called King's was easy to find. I just looked for a large group of colored people on a back street and there was King's.
King's Tavern
It was a typical hangout in a typical Mississippi town. The place was filthy and the cotton pickers who were enjoying their Sunday off crowded it to the doors.
At one end of the long hall was what served as a kitchen. Somewhere within the bowels of the place a jukebox was giving out with Rock and Roll blues and in the center of the floor couples were dancing attired in all kinds of clothing. Some of the young women up to 25 years old were dancing barefooted.
[I stood for a long time trying to "case" the place. I had not had a meal since my Mound Bayou breakfast that morning at seven and I was hungry. But I realized that I only had about a good hour to work in before dark and I wanted to get the most out of my time by circulating through the crowd instead of tying myself to an eating table.
[So I elected to spend my hour or so drinking beer and dancing to see what I could find. I walked over to the kitchen and foolishly asked for a "menu."
[That was a dead giveaway for a stranger and I realized it now. But at the time the words seemed to slip out of my mouth. It seemed that at the time I felt that if I had some reading matter in my hand I could stall a little but until I made up my mind as to what approach to make.]
Spotted As Stranger
When I asked a girl waitress for a menu, a man behind the counter spoke up and said, "We don't have any menu. But we can fix you most anything you want." Then he asked the question I knew was coming.
"Where you from?"
You simply can't escape it in the South. They can spot a stranger a mile away.
I could tell by the authoritative way the man spoke that he must be the owner or manager of the joint, so I answered, "Oh, I'm from up the way a bit" and gradually I drew him into conversation.
After trying to convince him I was merely a drifting guy who had dropped in his place for a beer or two –– and convincing myself that I hadn't convinced him of anything –– I came at him right down the middle:
"Whatever happened to my boy 'Too Tight'," I said?
The man stopped as if I had hit him in the face. I looked over to my right and some men seated at a table playing "Georgia Skin" dropped their cards and turned to look at me at the mention of the name "Too Tight."
Looking for "Too Tight"
I knew then that I was on the trail of something big.
But I also knew that the man to whom I was talking would not talk to me in the hearing distance of the others[,] so I grabbed him by his arm and moved over in a direction away from the "Skinners" and nearer the kitchen all the while saying "Let's have a beer."
He said nothing until he got me a beer. Then he moved over to me and said, "What do you want with 'Too Tight'[?]"
I told him "Too Tight" was a friend of mine. That we used to gamble together and that I was in his town and decided to look him up.
He looked around and said, "'Too Tight' is in jail."
"In jail," I said. "What have they got Too Tight in jail for? He never bothered anybody."
The man looked at me and said, "See that chick over there," pointing to a girl seated near the wall. "She can tell you about 'Too Tight'."
While I drank my beer, I stood there trying to figure how to best approach the girl who had the key to what I was looking for. She was seated with a big husky guy and the last thing I wanted to do was to become involved with a man for "molesting" his girl friend.
But all around me I noticed that when the other men wanted to dance they didn't ask the women for a dance. They just walk up, grab the woman by the arm and start dancing.
I felt my time was running out and I decided to try the bold approach. So I walked over to where she was seated, grabber her by the hand and said, "Let's dance."
She was up on her feet in a flash and I swirled her out in the middle of the floor into the crowd as fast as I could[,] hoping that the big guy at the table wasn't mad at me.
He's in Jail
She spoke first. And her questions were the usual. "Where are you from?" I told here that I was from up in Sumner and I was looking for my friend "Too Tight."
"Too Tight? she said[.] "He's in jail."
I expressed surprised. "In jail for what" I said. "I don't know," she answered. "They came and for him Monday a week ago."
I let fly then with a barrage of questions[,] determined to get them all in before the dance was over and the big guy came to claim her. I asked her if she had been to see him in hail. She said no.
"You mean to tell me," I said[,] "that your boyfriend has been in jail a week and you haven't been to see him?"
She said[,] "'Too Tight' isn't my boy friend. He lived with us."
I asked her who was "Us" and she said[,] "Me and my husband."
["]Is that your husband over at the table?" I asked. "No," she answered. "He's in jail, too."
"What did they get him for?" I asked. "I don't know," she said. ["]Both of them worked for one of those white men who killed that boy from Chicago and they came and got both of them."
I then asked her what jail they were in and if she had been to see her husband. She said she had not –– that she had been even afraid to talk about it to anyone.
I asked her what her name was. She told me. I then asked what her husband's name was. She said "Henry Lee Loggins."
Since the name she gave me did not have Loggins for a last name, I said to her, "I thought you said your name was so and so. Now you tell me your husband's name is Loggins."
"We're not married," she said. "We just lived together."
Then I asked her what to me was the $64 question in Glendora. "What," I said, "is Too Tight's real name? I've known him a long time but all I know is Too Tight."
Gives Mystery Name
She came right down the middle. "His real name is Leroy Collins[,]" she said.
She then told me that Too Tight lived with his grandfather on the Aklet farm near Glendora (about a mile and a half away) but that he stayed in town so much that he had just started living with her and her "husband."
I then tried to get real chummy with her. I complimented her on her dancing and her hair and I asked her if I could come back down to Glendora and take her out. Then for the first time I noticed that she was barefooted.
"We'll go to the jail first and see your husband," I said, "and then we can go out and have a few drinks."
She said that would be all right if I got back before ten o'clock that night. I told her then that I didn't mean that I was coming back that same night but that I had planned to come down and pick her up the next day.
Fears Beating
"I can't do that," she said. "I'll be picking cotton all during the day next week."
I told her that we couldn't get into the jail at night and that I'd pay her what she would make picking cotton if she would stay home from work the next day and go to the jail with me.
"I'd like to do it", she said[.] "But I'd get a beating."
I asked her who would beat her and she said that the white man for whom she worked came around and whipped everyone who didn't go out into the cotton fields and pick his cotton. "Even if they are sick, he whips them," she said.
I asked her to come with me while I ate something and she readily consented[,] completely ignoring the big guy at the table where she had been seated. I then found that the menu which was unwritten consisted of chitterlings or beef stew.
I ordered beef stew and sat down with her at a table. As hungry as I was, I couldn't go for the stew[,] so I pushed it away and told her I was about ready to leave. She then showed me where she lived and I promised to come back to Glendora some night. I never went back.
Things simply got too hot.


I got into my rented car with Mississippi tags and headed back from Glendora in the direction of Sumner.
When I reached the little town of Webb about a mile and a half away and almost half way back to Sumner I noticed a dirt road which I reasoned if it were straight would cut across country and hit the highway leading back to Mound Bayou.
I stopped the car, consulted my map, reasoned that I was guessing right and headed down the dirt road to take the short cut.
If I had known then what I know now I would never have taken that dirt road.
Nothing happened to me on it but subsequent events proved what could have happened.
The road led me in back of the state penitentiary at Parchman, Mississippi and I heaved a sigh of relief when I finally came out of its unpaved dust and rejoined the main highway.
Tell Experience
When I arrived back in Mound Bayou, Simeon Booker, Cloytde Murdock and photographer Jackson of the Johnson Publications out of Chicago were anxious to tell me of an experience they had had on their first day at Sumner.
They had gone to Money[,] which is below Glendora[,] and on their way back they too had seen the dirt road and reasoned as I did that it was a short cut.
But somehow as they went down the road they had become turned around and ended up going down a dead end road that led into the fields.
As they approached the dead end they encountered a truck load of white men all armed with shotguns and pistols, driving up the lonely road meeting them. They stopped, turned around and headed back. Upon questioning the presence of the guns they were told that the men were "deer hunting." However, on their arrival back in Mound Bayou they were told that deer hunting season had not yet started in Mississippi.
When I arrived back in Mound Bayou I told Dr. T. R. M. Howard[,] militant leader to the Delta[,] what I had found. I then learned that certain information which tied in beautifully with what I had.
He had been receiving reports for days that there had been two men on the truck with Emmett Till but he had not been able to establish who they were. He also had information on others such as Willie Reed and Mandy Bradley[,] whom he told me were willing to come forward and testify at the proper time.
Unearth Witnesses
Dr. Howard had given this information to other colored reporters but he had warned them not to publish a word about it until he could round up the witnesses and get them out of danger before stories broke in the press that they had valuable information which could lead to conviction. He impressed upon me and others that once a story got into the papers their lives would not be worth a nickel.
There then began some of the most trying days of my career as a reporter. I knew I was on something big and I wanted to break it with my papers right away.
The question was how to do so without tipping the white people of Mississippi off and thereby exposing myself and the innocent cotton pickers to bodily harm.
I argued that I should break the story. But Dr. Howard and my colleagues argued "How." They warned me that the wires out of Mound Bayou were not safe and they said it would be simply folly to put the story on Western Union and think that it would not get all over town.
All day Monday I worked through the trial almost in a daze, wrestling with whether I should plunge into my story of the two witnesses or hold off a little longer as Dr. Howard and others suggested.
[I filed copy on the testimony of the Rev. Moses Wright and Mrs. Mamie Bradley and let it go at that.]
Tuesday I continued to press for a release of the story. For by this time some of the white reporters had got wind of what we were working on and had asked me if I knew anything of a man named "Too Tight."
In one story I filed through Western Union on Tuesday I alluded strongly to important and new witnesses which might come up in the trial. I came as near as I could to telling my office that something big was about to break without putting any of the witnesses on the spot.
This was the fear which the others had and which I must admit made sense at the time. They knew that Sheriff Strider of Tallahatchie County was a witness for the defense, that he had said he doubted the body was that of Emmett Till and that he had shown hostility to colored people working on the case.
Fear Harm To Witnesses
They felt and I agreed that if Strider learned that we were going to produce some eye witnesses to the murder he would tip off the defense and others working with them and our witnesses would either be spirited away or come to bodily harm.
At first this sounded fantastic to me. To think that one could not trust the Sheriff. But when I looked at the hard cold facts that Strider had said the body was not Till's, that he was a witness against the state and that if "Too Tight" was in the Charleston jail Strider was the man who put him there, I agreed that it did not make sense to tip off Strider.
Then Ruby Hurley[,] NAACP field secretary[,] came to town and in a session in my hotel room which will live long in my memory I told Ruby what my problem was and told her that I could not see how I could sit on the story any longer no matter who was threatened by its publication.
Dr. Howard and my colleagues were all against my filing the story. They kept saying[,] "We don't want to get anybody killed. Wait."
Plan Shift
I put it up squarely to Ruby. She came through like a champion. She said that the evidence which we had was enough to stop the trial and shift it over to Sunflower County. Our witnesses were willing to testify that the crime was committed in Sunflower County instead of Tallahatchie County.
And she pointed out that if the case went to the jury in Tallahatchie County the two men would never have to stand trial again in another county because of double jeopardy. She said it was important that the evidence be made public right away before the case closed and went to the jury.
Ruby won the day on that point. But she stated that the story should be given the widest possible play on the dailies so that the public pressure could help to step in and stop the trial.
That meant that we had to call in white reporters since many of the weekly papers had already gone to the press. But who?
Simeon Booker, a Nieman fellow[,] suggested the name of Clark Porteous of the Memphis Press Scimitar who is also a Nieman fellow. I suggested that we add to it John Popham of the New York Times who was covering the story for the Times.
We agreed that we could call them in on it right away and that we'd have them ask the Sheriff where "Too Tight" was and to notify the Prosecutor and the District Attorney that we had new evidence to produce if they could offer the witnesses protection. We felt that these two men were men we could trust and we ruled out any other whites on the story either because no one in the group knew them well enough––or knew them too well to be trusted.
Makes Error
It was here that Dr. Howard committed what I will always feel was a tactical mistake. He was seated there in my room and suddenly he was going to Memphis to meet Congressman Diggs. Our agreement was sealed that we would notify Porteous and Popham and no one else.
Dr. Howard left. But a few minutes later we got word that Porteous and a "carload of reporters from Clarksdale" were coming down to hear the "story of the new witnesses."
Now we had agreed that no one but Porteous and Popham would be let in on the story but when Porteous arrived he came without Popham and instead had with him two white reporters of the Jackson, Mississippi Daily News[,] regarded by many as one of the most inflammatory papers in the state!
It now appears that Dr. Howard, who had been pledging to me secrecy all the time, had suddenly just thrown the whole story to the wolves. I was hurt and I said so. Ruby was shocked and she said so. We then began to wonder what would happen to our witnesses because through our underground with them we had informed them that nothing would appear in the press until they were off the plantation in safe hands.
Spills Beans
When the three white reporters showed up[,] Dr. Howard, who had not gone to Memphis[,] sat down with them in an insurance office in Mound Bayou. Without learning who they were or pledging them to any off the record secrecy he began to tell them every word of the evidence he had and that which we had produced.
Then after telling them all, he told them that they could not break the story until the next afternoon because he first wanted to get the witnesses off the plantation.
This is what he told them:
"Sunday night a Negro came to me with information that the killing of Till may have happened in Sunflower County. I have looked into this. I can produce at least five witnesses at the proper time who will testify that Till was not killed in Tallahatchie County but killed in Sunflower County about three and a half miles west of Drew in the headquarters shed of the Clint Sheridan Plantation[,] which is managed by Leslie Milan, brother of J. W. Milan, one of the defendants and half brother of Roy Bryant[,] the other defendant.
"Word had been brought to me that within the past eight hours efforts have been made to clean up blood stains on the floor of this shed. I am informed that if you reporters will go with the proper authorities in the morning, you will see some stains and where efforts have been made to remove them.
"I am informed that a 1955 green Chevrolet truck with a white top was seen on the place at 6 a.m. Sunday, August 28, the last time Till was seen alive. There were four white men in the cab and three Negro men in the back. Photos of Till have been identified. He was in the middle in the back.
"There are witnesses who heard the cries of a boy from the shed. They heard blows. They noted that the cries gradually decreased until they were heard no more.
"Later a tractor was moved from the shed. The truck was driven into the shed. The truck came out with a tarpaulin spread over the back. The Negroes who went into the shed were not seen at this time and have not been seen around the plantation since."
Jumps Gun
Porteous readily agreed to keeping the story off the papers until the next day but James Featherstone of the Jackson Daily News told Dr. Howard the he could not promise he would not print the story the next day. He said he had been called to come to Mound Bayou for a story, that he had not been told it was off the record and that he was going to print the story as quickly as he could get it in the papers.
This caused everyone in the room to almost faint because they knew what publication of the story would mean to the witnesses like Willie Reed and Mandy Bradley[,] who were at that moment still down on the plantation.
It took everyone in the room begging and pleading with Featherstone not to break the story. He finally agreed on the condition that on the following night when the witnesses were produced in Mound Bayou that no other white reporter be let in on the meeting except the three who were then there.
Dr. Howard, who I'm sure by this time realized his tactical mistake, promised that would be the case.
Scheme Exposed
The next step was to get the witnesses off the plantation and then have the white reporters tell the DA and the prosecutors that we had them and that they were all willing to talk. We broke up the meeting on this note.
But the white reporters went to the authorities either that night or the first thing the next morning because when the trial recessed the next day the prosecutors had informed the judge and the Governor of the State about the new evidence and the trial came to an abrupt recess to allow the prosecutors to talk with the witnesses.
Now during cotton picking time in Mississippi you can't get a cotton picker to leave the plantation during the day unless a white man comes for him. If he does he is subjected to a good whipping.
Ruby Hurley knew this and knowing this she became immediately alarmed that we would not be able to get the witness[es] until that night and that since the prosecution already knew about it the defense would also find out about it and that meant that they were still on the spot.
Still with the idea of saving lives, we huddled together with Miss Hurley in Sumner's only tavern to decide what was the next move.
Ruby said there was only one thing to do. That was to go on the plantation and warn the witnesses to leave at once and come to Mound Bayou as soon as possible. But native Mississippians pointed out the problem of that.
Meant Trouble
They said it meant trouble if any strange colored people showed up on a plantation and then some of the plantation people disappeared. Since we had to go to the plantation of the defendants they considered it double trouble.
But Ruby was insistent and it was finally agreed that Ruby and a reporter, Moses Newsome of Memphis[,] would go out on the plantation to warn the people and set up a meeting place for that night and that we would all then meet in a certain place in Cleveland, Mississippi[,] where we would talk to the witnesses and then bring them to Mound Bayou eight miles away to meet the authorities and the white reporters.
Thus shortly after high noon Ruby and Newsome disguised themselves as sharecroppers (Moses who was 130 pounds went away wearing a size 46 pair of overalls and Ruby wearing a Mother Hubbard dress and a bandana and actually looked for the moment like a sharecropper.)
This may sound fantastic but this is all true and it is the only way the state produced what few witnesses it did produce with the exception of Mose Wright.
They left, borrowed an old battered auto and went out into the plantations.
With the trial recessed we then went back to Mound Bayou. The meeting place with the witnesses was in Cleveland, Mississippi[,] and we were to be there at dark.
When darkness fell I went to the meeting place. There I met a man who is an ardent worker in the NAACP. He told me to park my car and get into his car. Then he drove me to a house which turned out to be the real meeting place.
I later learned that this is the way they do it down there. They announce one place as a site. But when you arrive there it is really not the bonafide place. If you are the right person you are taken from there to the meeting place. If you are not, no one will admit knowing what you are talking about.
Fantastic! It seems that way. But you have to live in Mississippi under the threat of its violence to learn what people like Ruby Hurley and other NAACP leaders have learned.


When I arrived at the house I found Ruby Hurley and Newsome safe but they had a sad story to tell.
During the afternoon the authorities notified by the white reporters had gone to the plantations ahead of them and questioned the prospective witnesses. This had scared them to death and they felt that we had gone back on our promise to get them out of there before the white people were told.
The result was that they not only clammed up to the whites but they refused to come to the meeting with us.
We didn't know what to do then. A call came from Porteous saying that he was on his way down with the sheriffs in the various counties. A special investigator sent by the Governor and other officials. And we had no witnesses to produce.
We went on, however, to the meeting place with the white authorities and Dr. Howard[,] who met with them[,] told them of how they had jumped the gun and what it meant.
He also pointed out the danger that the witnesses would be in when the story broke and he asked that they be taken off the farms and placed in protective custody. The various sheriffs and county supervisors, all of whom were here, said they did not feel the people involved were in any immediate danger but they said if Dr. Howard thought so they would go get them and bring them to Mound Bayou for safe keeping.
Meet Officials
Thus at about midnight we sat there in an insurance office with the following law officials of Mississippi, T.J. Townsend, prosecutor of Sunflower County, Gwin Cole, who had been flown to the trial that day on orders by Governor Hugh White as soon as the new evidence was presented, Sheriff George Smith of LeFlore County, District Attorney Stannie Senders of Sunflower County and John Ed Cothran, chief deputy of Sunflower County. They said the Governor was interested in the case and they wanted to do anything Dr. Howard and the group suggested.
Dr. Howard insisted that the only thing to do was to go right then and get the people off the plantation. The law officials said they could not force them to leave but that they could take us out and let us talk to them and bring those out who wanted to come.
Things happened fast after that. The various sheriffs said they would get people in their own counties and before one could say Jackie Robinson cars were moving out in all directions.
Visit Plantations
Some key people of Mississippi who were in on the meeting but who still cannot be identified got into cars with the sheriffs. These people were the contact people with the people on the plantations. Various reporters took off after the sheriffs in cars of their own. As for me I started out behind the sheriff who was to bring in Willie Reed.
He went through Mound Bayou like a streak and turned right at the dirt road leading towards Drew. I hit the dirt road behind him as he roared into the cotton fields.
Now it's simply a part of this fantastic story to state that at times on that little dirt road leading out of Mound Bayou I was travelling in the dead of night at times at 70 miles an hour!
It's fantastic but true.
But at that speed I lost the sheriff[,] and a Jackson and Johnson publications photographer who was riding with me and I decided to go on to County Supervisor Townsend's office at Drew where all the witnesses picked up by the various sheriffs were to be brought before being taken to Mound Bayou.
Driving at 75 miles an hour when we hit the paved road leading into Drew we overtook Simeon Booker and Clark Porteous and Featherson [Featherstone]. They too had chased a sheriff and got lost on the Mississippi dirt road. The five of us then went to Townsend's office.
As we arrived there a white woman drove up in a car and a colored man got out. This proved to be Frank Young, one of the key witnesses in the case who never testified. The sheriff in that county had simply called the plantation owner on which Young worked and told her to bring Young in.
Kept Mum
Dr. Howard was to have followed us to Drew to be there when witnesses were questioned but for some reason he was delayed and though Young had talked freely before this, he refused to talk to anyone but Dr. Howard.
We waited a long time and then the white woman who had brought him in grew tired and she took Young back to the plantation, promising to have him in court the next day. Young never took the witness stand. They told me he came to the court and could not find the courthouse and went back. I never did get the straight of this.
One of the sheriffs had taken a colored minister with him to get Mandy Bradley. About two o'clock in the morning they returned without Mandy. Moses Newsome, a reporter who rode in the sheriff's car with the minister and the sheriff[,] said the sheriff had driven to the house, sent the minister in to talk with Mrs. Bradley and see if she would come to Mound Bayou.
She is said to have told him that she would not. That she did not know anything about the case. But later the same woman did testify in the case and has now left Mississippi and is in Chicago. I can only believe that the events of the day and night had frightened her nearly to death.
The various sheriffs talked to other witnesses but were able to get none to come forward that night. Finally in the early hours of the morning we went back to Mound Bayou over the lonely back road.
There is one point which I should mention here that I feel had a direct bearing on my future activities with the trial.
During the meeting at Mound Bayou with the various sheriffs, one of them asked Dr. Howard what were the names of the two men who had been seen on the truck with Emmett Till. At this point Dr. Howard and the sheriffs were in the room together and reporters waiting outside.
Put on Spot
But at this point Dr. Howard in a loud voice called out "Send Jimmy Hicks in here." I went into the room and before all these sheriffs and other officials of Mississippi, many of whom I did not trust, he pointed to me and said: "This is Jimmy Hicks of the Afro American papers. He has talked with the people who know 'Too Tight.' Hicks, what is 'Too Tight's real name and what is the name of the man who was on that truck with him?"
I didn't want to answer. I didn't want to enter into that way whatever. But I couldn't let Dr. Howard down before all those people and I knew I was the only one who had the answer. So I said "'Too Tight's' real name is Leroy Collins and the other man is Henry Lee Loggins."
All their eyes were upon me as I left the room. And I got a funny feeling that the finger might also be on me too.
Watch Story
Back at the Mound Bayou hotel my colleagues were even more insistent that I lighten up on the type of story I was filling though Western Union.
From that point on it seemed that everyone in the courthouse knew what I had written the moment I filed it. I am not accusing Western Union. I do not believe that the operators were willfully letting anyone read my copy.
But the Western Union ticker was set up in the hallway of the courthouse and many of the local people had never seen one work. Those who could not get into the courtroom made it a habit to crowd around the open phones and the Western Union desk and listen to the reporters call in their stories on special wires set up for them.
It was very easy for them to also look over the shoulder of the Western Union operator and see what he was filing.
The owner of the only colored phone in Sumner told me himself that the white people listened in on everything said on his phones so I ruled that one out with the exception of a few calls to my office during which time I never once said what part I was playing in the trial.
While I was debating on whether to sit down and tell it all an incident happened which caused me to finally agree to file what I was seeing and doing.
I drove to the trial at nine o'clock Wednesday morning and sat through the trial until it recessed at 1:30. Then I started to my car parked in front of the courthouse. As I reached the car with the key in my hand to get a notebook out of the car a white man stepped off the curb and said to me "Boy is this your car[?]" When I answered that it was, he snatched the key from my hand and said[,] "You come with me down to the Mayor's office.
I was never so shocked in my life when I saw his gun [and] I decided that I'd better go along.
Under Arrest
I began walking with the man to the "mayor's office." Neither of us said a word. But oh how I was thinking. I felt at the start that Sheriff Strider[,] whom I simply do not trust[,] had got wind of my activity in tracking down "Too Tight" and I figured that I might be stuck away in some jail and given a good going over until after the trial.
We walked a half block and turned into the office of the Sumner Sentinel. Inside the door stood Featherson[,] the Jackson, Mississippi reporter who had worked on the witnesses with us virtually all night the night before.
Featherson said to me[,] "Hi Hicks. How you doing?" I said to him[,] "Not so good. Looks like I'm in trouble."
He said[,] "What's the trouble" and I asked him to ask the deputy who had brought me in. All the deputy would tell him was that Sheriff Strider had ordered him to pick me up.
I'll never forget Featherson. He told the deputy[,] "Look, I'm from Jackson, Mississippi. I know this boy. He's all right. You must have the wrong man. This boy is down here covering the trial." The deputy ignored him.
About that time Simpson, editor of the Sentinel[,] came in. And I was glad that he had been the first man I had gone to when I hit town.
Simpson, like Featherson, greeted me warmly and asked me how things were going. I told him that I was under arrest but did not know the charges. Simpson then aggressively demanded of the deputy what he was holding me for. When he refused to tell him he said[,] "Well, by God. Let's get the sheriff over here and see. This man is here to cover the trial. Every reporter speaks highly of him because I checked up on him.["] He then ordered someone in his office to get the sheriff[,] who was in the courthouse across the street.
Newsmen Busy
But instead of the sheriff coming back about 40 newsmen hit the door of the Sentinel.
Their nose for news had already sniffed a news story and they were there to check on it and I was glad to see them there.
It was then and only then that the deputy suddenly realized that he knew the charges against me. He said[,] "He's charged with passing a school bus!"
Simpson exploded. "School bus[,]" he said. "For goodness sakes, turn that man loose. You're getting ready to give this town the highest black eye it has ever had."
He then turned to what I later found out was the justice of the peace who tried my case –– the linotype operator in Simpson's printing plant!
Simpson suggested to the linotype operator that he dismiss the charges but the linotype operator[,] who was then talking to his boss, said, "This is my case and I'm going to try it."
I saw then that there was a little man who wanted to show his importance and I was so relieved that it was a traffic charge and nothing else that I told Alex Wilson of the Memphis Tri State Defender to buzz to the colored press that I was OK and could pay the fine and that I think I'd get off better if they left and made it appear that no one was putting any pressure on the little justice of the peace.
They left (and bless them all for having the courage to come), but some of the white reporters remained and continued to ask questions. One picked up a phone off Simpson's desk, called Memphis and began to dictating the story to his editor. The story later appeared on the center fold of the Memphis Commercial Appeal.
With Simpson talking to the JP, he said to me[,] "Come back here, boy." I went. He took me back to a linotype machine, wiped the ink off his hands, got out a law book and began reading a law to me.
When he finished he told me that under that law he could fine me $300 or give me six months in jail. But he said he was going to "give you a break" and dismiss the case. He asked me if I thought that would be a good break. I told him I certainly did. And then he dismissed the case and told me to "tell all those reporters out there that we gave you a break." I told him that I would––and I did.
By this time, however, I was getting the general idea that I was a marked man[,] for during his conversation with me the justice of the peace started telling me where I was staying, what time I got to the trial in the morning, where I parked my car and who I was going to have lunch with that day. (I was going to eat with a local woman who had promised some more information. She did not show up).
I haven't the slightest idea how he learned all this.


The next day Willie Reed, Mandy Bradley and others took the stand and testified. I filed straight copy of their testimony but I was eating my heart out to file copy on the fact that "Too Tight" Leroy Collins was in the Charleston jail, that Sheriff Strider knew he was there and that he would not produce him.
After they testified word came that the prosecution was going to close down its arguments. I couldn't believe it. How could they close without trying to put "Too Tight" on the stand.
I went to the Prosecutor Gerald Chatham and asked if it were true. He said it was. I asked him how about "Too Tight." He said Sheriff Strider told him that "Too Tight" was not in the Charleston jail. He said he couldn't produce him if the sheriff would not produce him.
I asked him what did he think had happened to "Too Tight." He said[,] "I wouldn't like to say."
Witness Seen
That night I received information that there was a person in Charleston who had been to the jail the day before and talked with "Too Tight." The person was at a certain spot[;] an NAACP official was there too and they wanted to know what should be done.
He told the person to be ready to testify the next day. Then we got word to the prosecutors by phone of what we had learned. As tactfully as it could be done it was pointed out that perhaps Sheriff Strider had been mistaken.
But the next morning the prosecution stated again that despite the fact that someone was willing to go to the jail and identify "Too Tight" he could not go there because the sheriff of the jail had already said he was not there.
The case actually went to the jury on that note and to this day no one got a chance to go there and talk to "Too Tight" Collins.
I think he is still there. If he is not there I think Sheriff Strider should be made to tell where he is.
Could Clear Mystery
And I believe if either he or Loggins could be put on a witness stand they would clear up once and for all the mystery of what they were doing on that truck with Emmett Till and what happened to Emmett Till when he was taken into that barn on the night of August 28.
Perhaps the reader will still condemn me for not dashing off reports on the above story day by day and hour by hour as it happened.
I should like to add these additional facts, unrelated as they might seem:
On the night that I filed my first copy from Sumner I was in my hotel room at Mound Bayou rather sure that no one in Sumner knew where I was living.
I got a phone call from Sumner long after midnight. The voice said he was a reporter from Louisiana and that he had met me earlier in the day. When I said I didn't remember him he said it was not important. That what he really called was for me to go to Memphis with him. He said he was working on a new angle on the story and asked me if I wanted to come along.
He said he realized Mound Bayou was not on the road to Memphis but that he was sleepy and would gladly drive out of his way to come by for me if I would agree to go so that I would help him drive back.
I told him that I couldn't possibly break away to go. When I said that he began asking me how long would I be at my hotel in Mound Bayou. I told him that I was just preparing to go south to Greenville and work on a new lead I had found. He said he could reach Sumner in about a half hour and that he wanted to talk to me. I told him I was leaving right away.
Given a Weapon
When the conversation ended and I told some of our group what had transpired a local Mississippian went out to his car, returned to my room and gave me a loaded .38 Smith and Wesson pistol. "Here, boy," he said. "You sleep with this tonight." I did.
About an hour later a carload of people drove up the side of my hotel and knocked on my door.
I lay there with my hand clutching the loaded gun and said nothing. Then they went next door and knocked on the door of Simeon Booker. He did not answer either.
By this time I got up and came to the door. I tested the lock to make sure it was locked and then I began peeping with gun in hand through the three small windows up at the top of the door of my hotel.
Beneath the street light outside I could see a carload of colored people. I was close to them as 30 feet. The light was playing full on the face of a colored woman I had seen before as she sat on the front seat of the car with the door opened.
The man doing the knocking was standing talking with her with his back to me and I could not see his face. I heard him say[,] "He's not in there."
Then the man walked around the other side of the car still with his face from me and went around the motel to the home of Mrs. Anderson[,] who owns the motel. I crossed the room, still with the gun in my hand, and watched him ring the bell until she answered the door.
Then he left after talking with her a moment and came back to the car parked in front of my door. He got into the car from the driver's side and soon they drove south toward Cleveland.
I went back to bed with the gun under my pillow. Then next morning Mrs. Anderson told me that the people had asked her if she had any vacant rooms. What I couldn't understand and still don't was why they knocked on the door of my motel room instead of first going to the office of the motel.
Feared Trap
On another occasion Murray Kempton of the New York Post called me in Mound Bayou. I got his message and called him back. He was not in. But as soon as I hung up the phone rang for me. A voice on the other end of the wire in Clarksdale said his name was Ferguson and that he knew I had called Murray a few minutes ago. The voice said he and Murray were good friends and that I could tell him anything that I was going to tell Murray and that he would pass it on to Murray.
I told the voice that he was on the wrong track, that I had not been calling Murray to tell him anything but that I was simply returning a call Murray had put through to me from Clarksdale.
The voice insisted[,] "Come on Hicks. You know plenty. Let me in on it." He gave the impression that he was another newsman. I told him I simply did not have any leads to work on and he finally hung up.
Face Trickster
Then next day in Sumner I told Murray about the incident. We went to James Featherson and accused Featherson of trying to get me to give him some information under his name.
But the last day of the trial Featherson came up to me in Kempton's presence and swore that he had never talked with me by phone. I told Murray that the man on the other end had used the name Ferguson. And in reflection I'm not sure that it was not the voice of Featherson.
Who was it? I haven't the slightest idea.
One more incident. Sheriff Strider gave out press passes which were supposed to enable reporters to use the backstairs which the jury used in getting in and out of the courtroom to avoid going through the crowd.
Barred By Deputy
The day after I gave the sheriff the name of "Too Tight" Collins I started up the back steps to go to the courtroom. A deputy was standing on the narrow stairway and as I approached him with the card in hand he put one foot against the wall of the narrow stairway, leaned against the other and barred the way.
I said[,] "Press" and held the card up higher. He said to me[,] "No niggers are going up this stairway." I bit my tongue, turned around and started for the front stairs where one had to push his way through the hostile crowd.
On the way I met John Popham of the Times and I told him what had happened. I also told him what a loaded thing it was to push one's way through the hostile crowd. He suggested that we get together and try to go up.
With Popham leading the way we went back to the stairs. Several white reporters walked on past the deputy before we reached him.
Then Popham walked past him. I followed. But as I put my foot out to mount the first stair, up came the deputy's foot again and barred the way. Popham, who had already passed him turned and said[,] "He's a reporter. He's got a card. The sheriff said the press could go up this way."
The man snarled at me[,] "You're not going up this way. G'roung." He had a gun. I had no choice. I went around.
No action Taken
I know that this information was given to Strider. But we still never were able to use the back steps.
All of these things gradually beat me down at Sumner. A deputy threatened to knock Simeon Booker's "head off" because Booker held up the press card and asked the deputy to help him get through the crowd.
A man who walked up to the press table and called all of us "niggers" was sworn in five minutes later as the bailiff.
Reporter Fired Upon
An English correspondent who talked to a colored woman was later fired at twice the same night be the deputy who arrested me.
A cross was burned fifty yards from the courthouse during the trial. There was no investigation that I heard of.
They allotted us chairs at the Jim Crow press table but during the noon recess while we were trying to get our stories filed in a colored restaurant the crowd would come in and take the chairs from our table. I stood up more often than I sat down.
Congressman Diggs and Dr. Howard brought their own chairs to the Jim Crow press table. On the last day of the trial the crowd took them.
This was the trial at Sumner as I lived it. Other colored reporters will verify that portion of my story where our paths crossed, and they crossed often. There are other colored reporters who could possibly tell even more fantastic stories. But they are all true.

James L. Hicks' dispatches are from Christopher Metress'
THE LYNCHING OF EMMETT TILL: A Documentary Narrative,
(University of Virginia Press, September 2002); with permission of the Cleveland Call and Post.
It appeared first in Archipelago Vol. 6, No. 1 Spring 2000.
See also,
"The Murder of Emmett Till," a documentary on "American Experience," PBS
and Further Reading
next page